Is a great customer experience required to grow your account base, and retain accounts in financial services? As the world shifts to a 'digital first' orientation – financial services organizations and insurance companies are under pressure to improve the online customer experience, particularly in the face of 'fintech and insuretech' startups that use it as a competitive advantage to take market share – and keep it.
Gartner, the world's leading research and advisory company, recently published the Gartner 2019 Customer Experience Management Survey:
"As part of Gartner's 2019 Customer Experience Management Survey, executives at 56 financial services firms were asked the extent of what their firms competed/compete/will compete on the basis of CX two years ago, today and in two years. While only 34% of firms said they almost completely or fully competed on this basis two years ago, 59% said they do today and 80% said they will in two years, which is an incredibly rapid shift."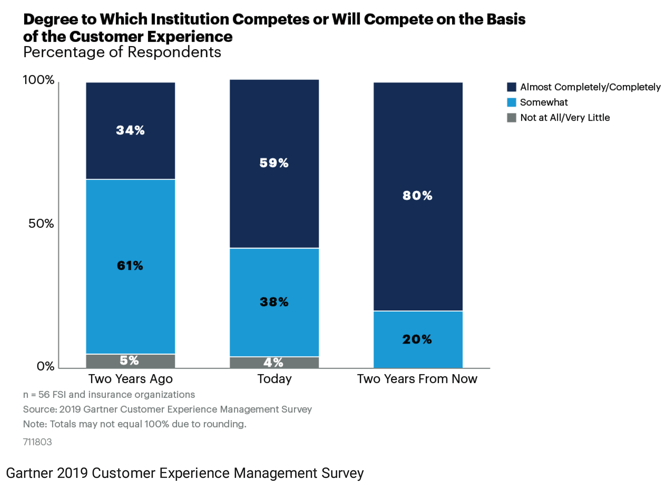 Source: Gartner "Enhancing Customer Experience Maturity in Commercial Banking," Financial Services Business Leader Research Team, 13 December 2019.
Again – in two years from now, 80% of the respondents expect that they will be competing almost completely/completely on the basis of the customer experience.
As PWC notes in this new report – Financial Services Technology 2020 and Beyond: Embracing Disruption – fintechs and other new market entrants  "typically offer a better customer experience…." – as a competitive advantage.
HOUSTON – DO WE HAVE A CUSTOMER EXPERIENCE PROBLEM?
Given the onslaught of Fintech and Insurtech companies – which arguably are founded on simplifying the user experience through mobile tech (the 'Apple–ization' of finance if you will), what do we believe traditional players / incumbents should do to improve customer experience – especially the online experience?
One area worth investigating is the linkage between your self-service options (portal, app, website) and your customer service channels. Often times self-service options are siloed with limited, or no connection to customer service channels.  That can make it difficult for your self-service customer to get help when the portal does not deliver what they need.
Digital self-service is great for providing an optimal customer experience – until it's not. Then the customer looks for an easy way to ask for help via a quick message. If that choice can be made readily available in the user interface of the app or portal – great. If it is a channel that can also include rich context and document or image sharing as well – even better. And if the channel is completely integrated into your back-end support infrastructure (core platforms, CRM, contact center, etc) – you're golden. Unlike many solutions that improve the customer experience, this can be a relatively easy, painless way to move those experience scores up and make you a hero.  Who doesn't want that!
Want more data to support providing these seamless digital banking or insurance channels? Check out this whitepaper. Want an implementation guide to help formulate a solution? Check out this guide.